News: New forum is ready!
Recent Posts
2
« Last post by Shine on June 16, 2018, 09:19:25 AM »
What is the criteria to choose the POTM? Wouldn't she (Athena) pick whoever she feels like (randomly)? Or just on a whim?

The event seems interesting, but the way to choose a winner is impractical.
3
« Last post by kurama23 on June 16, 2018, 04:14:01 AM »
How many players will be choosen as a winners?
4
"Do you have what it takes to be most certified AKC player of the month? We're in search for loyal players in Arena Knights Cabal EU & NA who are hoping for that one shot of fame as he/she gets featured at our very own forum!"
"This is your chance to be known not only in-game but in real life."
MECHANICS:
1. All participants must fill up the registration form below:
(Kindly attach 2 screenshots of your character with visible IGN, you may also submit your real life [1] picture if you want.)
*You are requested to answer the provided questions in ENGLISH*
Character name:

Level:

Class:

Server / Guild:

Real name:

Location:

Age:

Occupation:

How can you balance your work and playing CABAL AKC?

Origin of Character name:

Favorite CABAL map:

What kind of gamer are you?

When not online, where are you most likely to be seen in?

Favorite color:

Favorite food:

Likes:

Dislikes:

Favorite quote:

Life motto:

Talents:

Achievements in-game:

Message to fellow guild members, and friends:

*Just copy all the provided details then paste it*
2. Strictly NO DUMMY Accounts.

3. Chosen player will be posted every 1st week of the month. Make sure to check your email from time to time for references.

4. Send your entry to this Email: akcplayerofthemonth@gmail.com with a Subject Title of: AKCPLAYER
REWARDS:
150K ECoins + A photo to be featured at AKC's forum
(Ecoins will be given by GM Athena/Athruno
)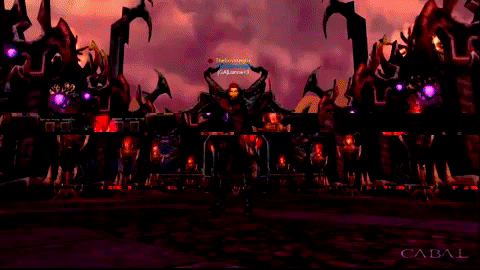 GOODLUCK AND HAPPY GAMING MATES!
FAQ's(Frequently Asked Questions)
• When is the announcement of the winners?

-> Every 1st week of the month.


• How many winners? ->

Only ONE player will represent each server(EU & NA) every month.


• What if I wasn't chosen as the player of the month, can i still join? ->

YES! you may submit your entry again.


• How will I know if I'm chosen to represent this month? ->

We will contact you immediately through email, that's why we suggest to check your email from time to time for replies and references we might need.


• Are you the one who will pick the winners? ->

NO. All decisions are made by GM Athena/Athruno.


• Is Real Life picture needed?

-> OPTIONAL. It depends to you if you want to submit.
5
« Last post by Grondor on June 06, 2018, 08:17:08 AM »
7
« Last post by Krens on May 30, 2018, 06:17:14 AM »
event sir EM LittleGreen
8
« Last post by Grondor on May 20, 2018, 03:18:17 PM »
9
« Last post by [Vegena] on May 18, 2018, 02:29:17 PM »
Only in EU server
I really really really really really hope someone can make this happen in NA server also
Anyway, kudos on the event LittleGreen. I really appreciate your efforts on making engaging events. The server really this kind of events nowadays since we are currently down to number 2 spot on the xrtremetop100 server ranking. I hope the admins can make this an official monthly event. It would surely boost the interest of the players to stay in the server while waiting for the future updates
(hopefully)
.
10
« Last post by IPawn on May 13, 2018, 03:20:15 PM »
FA: FB: WA:
1st - BlackDylan 1st - SaiyanCryptic 1st - LieutenantJohn
2nd - BlackVier 2nd - Schneizel 2nd - 7SinsWarrior
3rd - IPawn 3rd - IyotononNachoy 3rd - LuckyAces

WI: FS: BL:
1st - LieutenanWizard 1st - Myztic 1st - Kenzaki
2nd - ParisHilton 2nd - Alabaster 2nd - MonkeyDMihawk
3rd - SaintLionKingX 3rd - ZeroKUZama 3rd - RedhairGunner

Congrats to all Winners !!